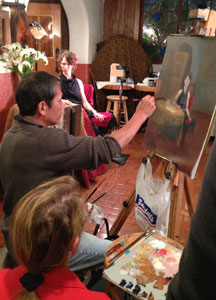 Fechin Art Reproductions has partnered with Fine Art Services to provide Fechin Art Workshops.
The mission is to provide an exclusive opportunity for exchange between students and outstanding instructors, with national and international recognition, in an intimate environment which maximizes personal artistic growth.
Join us for quality instruction, demonstrations, a private room and meals, nestled in the historical villages of Taos Ski Valley and Abiquiu, New Mexico. Master painters will provide personal critiques for students while sharing their insights. Models will be available daily in designated areas and on location when painting off premise.
Visit their website for scheduled workshops and additional information.